Boba Fett Toy Figure by Tamashii Nations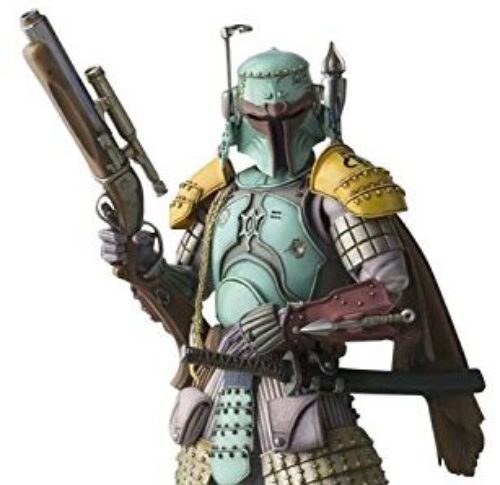 Introducing the Boba Fett Meisho Movie Realization figure!
This deluxe figure set features a spectacular feudal Japan aesthetic, appropriately portrayed as a lord-less "Ronin" Samurai. The sculpting talent of artists Takeyuki Takeya and Junichi Taniguchi has brought this unique design to life.
In addition to his EE-3 rifle portrayed as an flint-lock style blaster, this figure set features an extensive array of accessories. The characteristic backpack missile can be removed/attached, and the helmet mounted scope is moveable. Also included are a short ninja-style katana and sheath, as well as numerous ninja-style blade accessories that can be subtly attached to shin and forearm areas.
This is a must-have for any Star Wars fan or collector of Japanese-style figures.
Features:
100% Toy
Imported
Added Japanese style for a unique design
EE-3 rifle portrayed as a flint-lock style blaster
Extensive array of accessories
Official Bluefin Distribution logo
Specifications:
Dimensions: 2 x 4 x 9 inches
Weight: 13.6 ounces
Age range: 15-16 years
Last updated on 12/06/2023 7:03 PM