Mobile Suit Gundam Seed Destiny Strike Freedom Gundam BANDAI SPIRITS MGEX by Tamashii Nations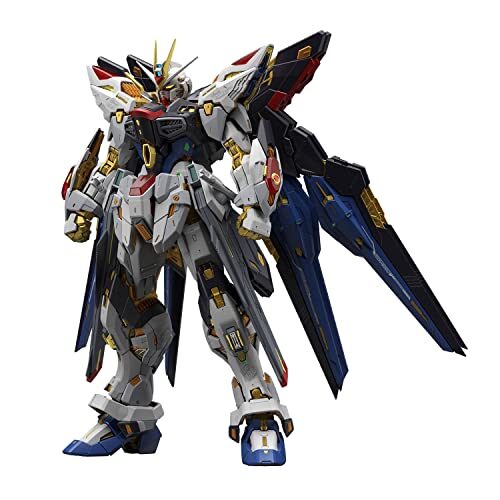 MGEX Strike Freedom Gundam
The MGEX Strike Freedom Gundam is the second release in the MGEX high-end series, which combines the culmination of BANDAI SPIRITS technology and different materials to pursue the "EXTREME EXPRESSION" of the MS under certain "themes."
The theme of this release is "Metallic Expression, the Highest Peak in Gunpla History." A total of 6 patterns of 3 types of special processing, 2 types of metallic molding, and etching seals express the metallic feel of the inner frame.
The internal frame is equipped with the most "frame interlocking movable gimmick" in history. Armored interlocking movable gimmicks used in many parts of MG and RG As each part is organically linked together to create a new experience area.
To emphasize the presence of the inner frame, we adopt parts structure that allow room in the gap of the armor and red clear parts. It is also equipped with many "attractive gimmicks" created to highlight the metal expression.
Multiple articulation is implemented in the hip joints. By step on the 2-step steps of "Drawer-> Movable", you can recreate a flight pose with both legs stacked together naturally.
Comes with a wide variety of weapons equipped with many gimmicks such as "Long Range Beam Rifle", "Quifias 3-Rail Gun" and "Spale Lakerta Beam Saber".
Includes a paper craft runner stand that makes it easy to manage multiple runners during the assembly process.
The MGEX Strike Freedom Gundam is a must-have for any fan of the Gundam series. It is a challenging and rewarding build that will result in a stunning display piece that will be the envy of all your friends.
Features:
Highly detailed inner frame made from die-cast metal and ABS plastic.
Fully articulated outer armor made from high-quality plastic.
Variety of realistic gimmicks, such as the folding wings and the firing missiles.
Stunning metallic finish achieved through a combination of special processing, metallic molding, and etching stickers.
Accessories:
Beam rifle x 2
Beam saber blade x 2
Hand parts x 1 set
Figures 

x 2 types (Kira Yamato, Lacus Clyne)

Action base x 1

PET sheet (for beam shield) x 2

Water transfer type decal x 1

Etching seal x 1

Metallic 3D sticker x 1

Paper craft type runner stand x 1
Last updated on 10/05/2023 4:38 PM