Harry Potter 2023 Holiday Advent Calendar LEGO 76418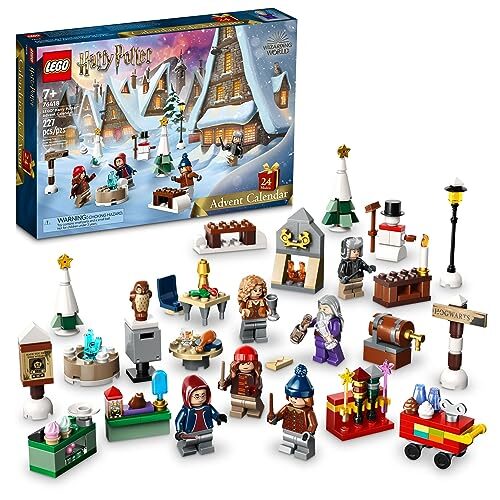 Experience the Magic of Christmas with the LEGO Harry Potter 2023 Advent Calendar (76418)
Make this holiday season enchanting for young Harry Potter fans with the 2023 LEGO Harry Potter Advent Calendar. This Christmas countdown playset is a magical gift idea for kids ages 7 and up, featuring 227 pieces of building fun and surprises behind every door.
Key Features:
Discover New Experiences: Unleash creativity with 24 daily surprises, each revealing a unique experience behind the doors of the Advent Calendar. Build a magical Hogsmeade village and embark on imaginative adventures.
Iconic Harry Potter Minifigures: Meet 6 new-for-2023 LEGO Harry Potter minifigures, including the first-ever Aberforth Dumbledore, along with Harry Potter, Hermione Granger, Ron Weasley, Draco Malfoy, and Madam Rosmerta. Collect iconic characters and recreate scenes from the Wizarding World.
Hogsmeade Village Mini Builds: Explore the magic of Hogsmeade with 18 mini builds, including The Three Broomsticks Inn, the Hog's Head Inn, Zonko's Joke Shop, and Honeydukes candy store. Each building captures the essence of this all-wizarding village.
Illustrated Building Adventures: Simple pictorial guides on the back of each door make building a breeze. Children can follow the instructions and bring the magic of Hogsmeade to life.
Holiday Gift for Creative Kids: Surprise young wizards with this Christmas gift. Ideal for creative kids who love Harry Potter movies, books, and games, or anyone who enjoys LEGO Harry Potter playsets.
Versatile Play Possibilities: Combine the minifigures and buildable models from the Advent Calendar with other LEGO Harry Potter sets for endless play-and-display possibilities. Expand the Wizarding World and create magical scenes.
Part of an Extensive Assortment: The LEGO Harry Potter toy building sets offer favorite characters, familiar locations, and magical adventures. Join young wizards, witches, and Muggles in the magic of LEGO Harry Potter.
Let the anticipation build as you count down to Christmas with the 2023 LEGO Harry Potter Advent Calendar. Capture the magic of the Wizarding World, one door at a time. Contains 227 pieces of spellbinding fun.
Last updated on 11/15/2023 11:58 PM