Super Mario The Mighty Bowser LEGO 71411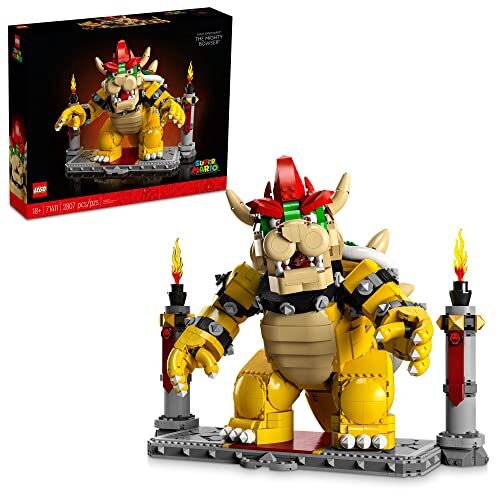 LEGO Super Mario The Mighty Bowser
Build, display, and battle with the king of the Koopas!
Build and display a highly detailed posable figure of Bowser.
Use the fireball launcher to fire fireballs at your opponents.
Move Bowser's head, neck, arms, and fingers.
Knock over the towers on the battle platform.
Find the hidden POW Block.
Scan the Action Tag with your LEGO Mario, LEGO Luigi, or LEGO Peach figures to battle Bowser.
A great gift for fans of Super Mario Bros.
Measures over 12.5 in. (32 cm) high, 16 in. (41 cm) wide, and 11 in. (28 cm) deep.
Contains 2,807 pieces.
The Mighty Bowser is the ultimate LEGO Super Mario buildable figure. This highly detailed figure is perfect for fans of all ages who love to build and display their favorite characters. Bowser can be posed in a variety of ways, and he even has a fireball launcher that can be used to fire fireballs at opponents. The Mighty Bowser also comes with a battle platform that features two towers, a hidden POW Block, and an Action Tag. This set is a great way to add a touch of the Mushroom Kingdom to your home, and it's also a lot of fun to play with.
Order your LEGO Super Mario The Mighty Bowser today!
Last updated on 10/05/2023 4:31 PM