Hocus Pocus: The Sanderson Sisters' Cottage Disney LEGO Ideas 21341 Collectible Building Set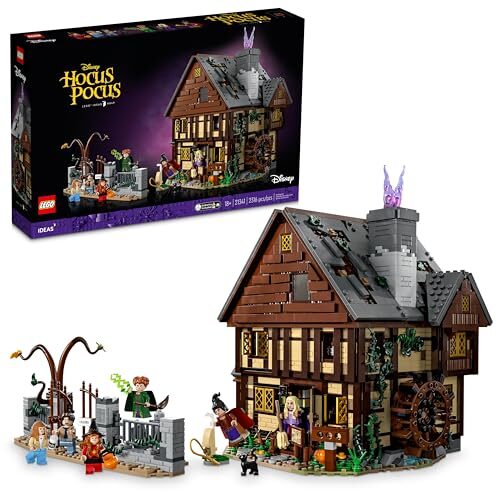 LEGO Ideas Disney Hocus Pocus: The Sanderson Sisters' Cottage 21341
Capture the enchanting joy of a classic Disney fantasy-comedy movie with this detailed Sanderson Sisters' Cottage model.
Featuring 7 beloved characters:
Winifred Sanderson
Mary Sanderson
Sarah Sanderson
Max Dennison
Dani Dennison
Allison Watts
Thackery Binx (in cat form)
Recreate fun scenes with Disney's 3 Sanderson Sisters, Max and Dani Dennison, Allison Watts and Thackery Binx (in cat form).
Detailed interior
The cottage can be opened in multiple ways for easy viewing.
Cauldron
Illuminate the fire underneath with the LEGO light brick.
Water wheel
Spin the wheel to make pink 'smoke' billow from the chimney.
Book of Spells
Open the witches' Book of Spells.
Gate/graveyard
You can display all the characters on this build.
Lots of accessory elements
Includes the objects the witches fly on in the movie.
A nostalgic gift idea for adults
Treat yourself or give this collectible 2,316-piece set to Disney Hocus Pocus fans and any lovers of fantasy and comedy.
Order yours today and relive the magic of the classic Halloween movie!
Last updated on 11/06/2023 4:22 PM