LEGO Star Wars The Razor Crest 75331 UCS Starship Model Kit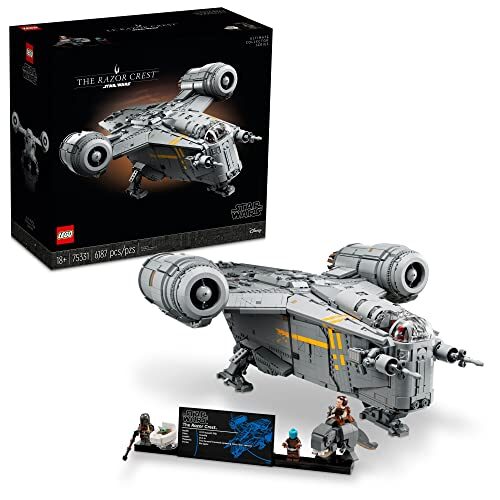 LEGO Star Wars The Razor Crest 75331 UCS Set
The ultimate LEGO Star Wars Ultimate Collector Series (UCS) set for adults, this collectible model of The Razor Crest is the perfect centerpiece for any fan of Star Wars: The Mandalorian.
Measuring over 28 inches (72 cm) long, this incredibly detailed model is packed with authentic features, including a removable top and engines to reveal the detailed interior, a cockpit that can be removed to access the sleeping quarters, side hatches, a cargo compartment with a weapons cabinet, a minifigure-size carbon-freezing chamber, and more.
The set also includes 5 LEGO Star Wars minifigures: The Mandalorian, The Mythrol, Kuiil, Grogu (Baby Yoda) in a pram, and a buildable Blurrg figure.
This is a challenging build for experienced LEGO builders, but the finished product is sure to be a cherished addition to any collection.
Features:
Measures over 28 inches (72 cm) long
Removable top and engines reveal detailed interior
Removable cockpit
Side hatches
Cargo compartment with weapons cabinet
Minifigure-size carbon-freezing chamber
5 LEGO Star Wars minifigures: The Mandalorian, The Mythrol, Kuiil, Grogu (Baby Yoda) in a pram, and a buildable Blurrg figure
Display stand
Ideal for:
Adult LEGO builders
Fans of Star Wars: The Mandalorian
Fans of collectible LEGO sets
Advanced LEGO builders
Last updated on 10/05/2023 4:31 PM