Mobile Suit Gundam: 0083 with Phantom Bullet – RX-78GP00 Gundam GP00 Blossom ver. A.N.I.M.E, The Robot Spirits Figure by Tamashii Nations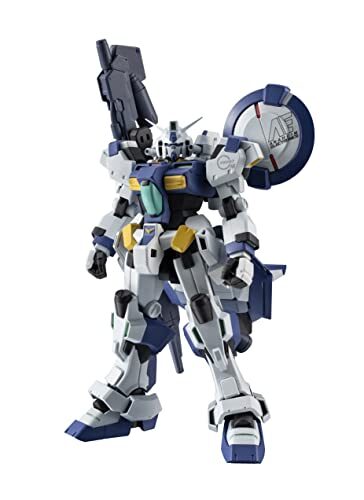 Immerse Yourself in the Legend: Mobile Suit Gundam: 0083 RX-78GP00 Gundam GP00 Blossom ver. A.N.I.M.E. Phantom Bullet Robot Spirits Action Figure
Step into the world of epic battles and cutting-edge technology with the Mobile Suit Gundam: 0083 RX-78GP00 Gundam GP00 Blossom ver. A.N.I.M.E. Phantom Bullet Robot Spirits Action Figure. Crafted with unparalleled attention to detail, this action figure encapsulates the essence of the experimental Mobile Suit that reshaped the course of warfare.
The Gundam GP00 Blossom, a triumph of innovation by Anaheim Electronics, takes center stage in this meticulously crafted collectible. Designed as part of the groundbreaking Gundam Development Project, this Mobile Suit was thrust into battle immediately after assembly, fortified with prototype weaponry to safeguard the Livermore Factory.
Included with the figure are 4 pairs of optional hands, allowing you to recreate an array of battle poses and expressive gestures. The figure also features the awe-inspiring Long-range Beam Rifle, delivering devastating energy attacks with precision and power. Complete with the Core Booster II, a marvel of engineering that enhances mobility and combat capabilities, this figure captures the essence of the GP00 Blossom's prowess.
Elevate your display with the Core Booster II stands, offering dynamic poses that showcase the figure's inherent energy and determination. The MPIWS Radome Connector enhances the figure's versatility, opening up countless strategic possibilities for imaginative play. To add a touch of realism to your display, the effect parts set captures the raw intensity of combat, recreating the chaos and power of the battlefield.
Stoically standing at approximately 4 4/5-inches tall, this action figure is a testament to the mastery of design and craftsmanship. Crafted from high-quality plastic, it embodies the spirit of the Mobile Suit Gundam universe.
Specifications:
Company: Bandai Tamashii Nations
Theme: Gundam
Product Type: Action Figures
Collection: Robot Spirits
Material: Plastic
Item Height: 4.92 inches (12.50 cm)
Join the ranks of Gundam enthusiasts and collectors who appreciate the fusion of technology and artistry. The Mobile Suit Gundam: 0083 RX-78GP00 Gundam GP00 Blossom ver. A.N.I.M.E. Phantom Bullet Robot Spirits Action Figure is more than a collectible – it's a tribute to the legacy of innovation and heroism that defines the Gundam saga.
Last updated on 10/05/2023 4:41 PM