Mobile Suit Gundam Wing: XXXG-00W0 Wing Gundam by Tamashii Nations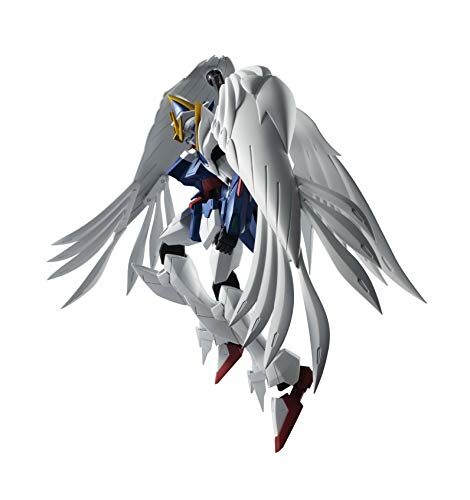 Mobile Suit Gundam Wing: XXXG-00W0 Wing Gundam
This incredible highly detailed figure of the Wing Gundam Zero (EW) is part of the popular and highly posable GUNDAM UNIVERSE line developed for North America. It features incredible size and glorious wings, and comes with a pair of optional hands, twin buster rifle, and a Tamashi STAGE connector joint.
Features Multiple Accessories
The Wing Gundam Zero (EW) is one of the most popular Gundams of all time, and this figure does it justice. It features incredible detail, including the iconic wings and twin buster rifle. It also comes with a pair of optional hands, so you can pose it in different ways. The Tamashi STAGE connector joint allows you to display the figure in mid-air.
The figure is made of high-quality plastic and diecast metal, ensuring durability and a realistic feel.
The articulation is excellent, allowing you to pose the figure in a variety of ways.
The paint job is detailed and accurate, capturing the look of the Wing Gundam Zero (EW) in the anime.
The figure is a great size for display, measuring approximately 5.9 inches tall.
A Must-Have for Any Gundam Fan
If you're a fan of Mobile Suit Gundam Wing, then this figure is a must-have for your collection. It's a beautifully crafted figure that is sure to impress even the most discerning fans. Order yours today!
Last updated on 10/05/2023 4:40 PM