Sasuke Uchiha – Ninja Prodigy of The Uchiha Clan Bloodline Naruto by Tamashii Nations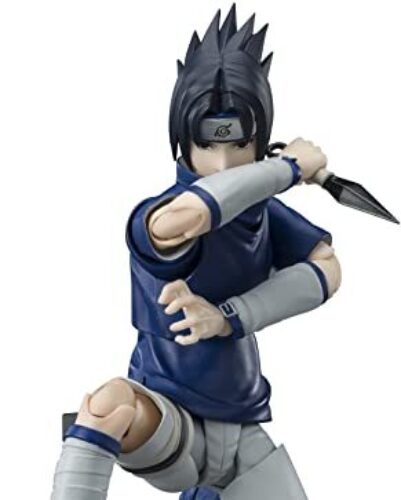 The TAMASHII NATIONS Sasuke Uchiha -Ninja Prodigy of The Uchiha Clan Bloodline Naruto S.H.Figuarts figure is the perfect addition to any Naruto collection. This highly detailed figure is made of high-quality PVC and ABS materials and features stunning paintwork. It is also highly poseable, allowing you to recreate your favorite scenes from the Naruto series.
The set includes four optional expression parts, four left and five right optional hands, optional clasped hands, Fuma Shuriken, windmill, kunai blade, Fire Style, Chidori Lightning Style, Fire Style effect support & base. This allows you to display Sasuke in a variety of poses, from his signature fighting stance to his more comical expressions.
Sasuke Uchiha is a beloved character from the Naruto series and is a fan favorite among collectors. This figure is a great way to show your love for Sasuke and the series. It is also a great gift for any fan of the series.
Additional details:
The figure also features Sasuke's signature headband and the curse mark on his forehead.
The figure is sculpted in a dynamic pose, showing Sasuke preparing to use his Chidori attack.
The figure is the perfect way to show your love for the Naruto series and the character of Sasuke.
It is also a great way to start or add to your S.H.Figuarts collection.
Last updated on 10/05/2023 4:34 PM