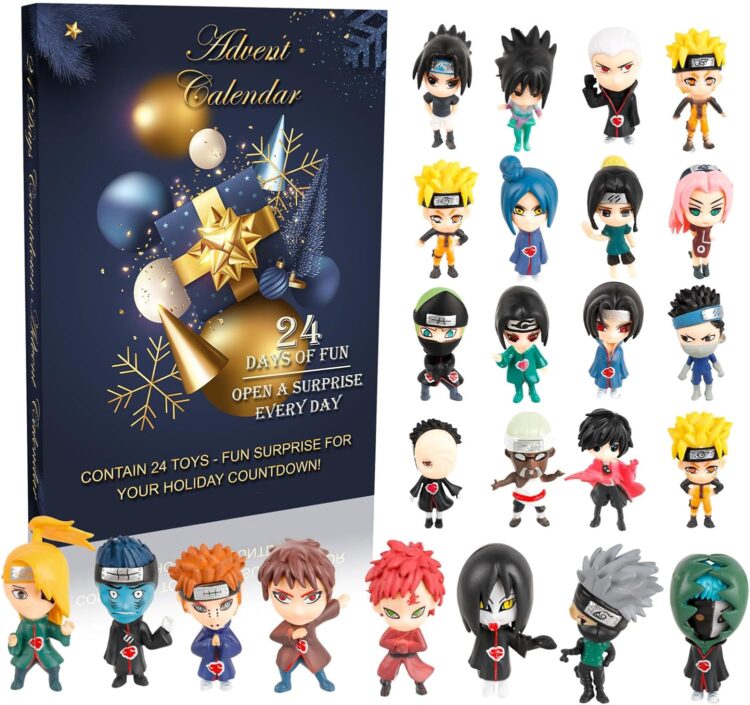 The holiday season is upon us, and for pop culture enthusiasts and collectors, there's no better way to count down to the festivities than with a unique advent calendar. In this post, we'll introduce you to a selection of high-end, collectible advent calendars for 2023, perfectly tailored to adults who are passionate about anime, manga, and pop culture. Whether you're a Pokémon trainer, a superhero fan, or a wizard at heart, these advent calendars are sure to add a touch of magic to your holiday season.
Advent calendars have come a long way from simple cardboard boxes with chocolate treats. In the world of collectibles, uniqueness is key. The advent calendars we're featuring aren't just a daily dose of surprise; they're crafted with meticulous attention to detail and contain treasures that every pop culture collector dreams of.
The Best Advent Calendars for Pop Culture Lovers and Gift Giving
Now, let's dive into the heart of the matter: the themed advent calendars. These carefully curated collections cater to the most dedicated fans of franchises like Pokémon, DC Heroes, Marvel, Dragon Ball Z, Star Wars, Harry Potter, Fortnite, Super Mario, Five Night at Freddy's, Roblox, Naruto, and general anime.
Not only are these pop culture advent calendars a dream for collectors, but they also make fantastic gifts for the fandom enthusiasts in your life. Surprise your family members, friends, co-workers, or loved ones with an advent calendar tailored to their favorite franchise. Watch their eyes light up each day as they discover a new themed treasure.
These calendars allow you to share in the joy of unboxing pop culture surprises with your favorite people. It's a great way to indulge in your passions together this holiday season.
Let's take a closer look at each of them:
Pokémon Advent Calendar
For all the Pokémon trainers out there, this advent calendar is an absolute must-have. It's packed with a variety of Pokémon-themed collectibles, including figures, keychains, and more. Gotta catch 'em all!
DC Heroes Advent Calendar
DC Comics fans, your holiday season just got heroic! Unveil a daily dose of justice with this advent calendar featuring miniature figures of your favorite superheroes and supervillains.
Marvel Advent Calendar
The Marvel Universe comes to life with this advent calendar. Discover tiny versions of your beloved heroes and villains, ready to assemble in an epic showdown!
Dragon Ball Z Advent Calendar
Get ready to go Super Saiyan with the Dragon Ball Z advent calendar. Each day reveals a new Dragon Ball Z collectible, ensuring that your holiday season is truly out of this world.
Star Wars Advent Calendar
A long time ago in a galaxy far, far away… Star Wars fans rejoice! This advent calendar takes you on a daily journey through the Star Wars universe with mini-figures, ships, and more.
Harry Potter Advent Calendar
Embark on a magical journey with the Harry Potter advent calendar. Open the doors to find enchanting surprises from the wizarding world, perfect for every aspiring witch or wizard.
Fortnite Advent Calendar
Fortnite enthusiasts, the battle royale extends to your holiday season. Unbox mini Fortnite items every day and level up your collection.
Super Mario Advent Calendar
Enter the Mushroom Kingdom with the Super Mario advent calendar. From Mario to Bowser, the whole gang is here to make your holiday season a gaming adventure.
Five Night at Freddy's Advent Calendar
Step into the world of suspense and horror with the Five Night at Freddy's advent calendar. Each day holds a sinister surprise, perfect for fans of the franchise.
Roblox Advent Calendar
Roblox aficionados, prepare for a month of excitement! The Roblox advent calendar is filled with exclusive virtual items that enhance your Roblox experience.
Naruto Advent Calendar
Naruto fans, this calendar is your ticket to the Hidden Leaf Village. Uncover a range of Naruto-themed collectibles and relive the ninja adventures you love.
Anime Advent Calendar
For fans of anime in general, we have a special advent calendar that celebrates the diverse world of Japanese animation. Expect surprises from various popular series.
For Parents: Fill Up Traditional Advent Calendars
Parents can use these pop culture advent calendars to fill up traditional wooden or cardboard advent calendars for their children. Simply transfer the mini collectibles into the classic advent calendar numbered slots. Kids will be thrilled to unwrap a different surprise every morning!
Advent Calendars for Adults
You might be wondering, "Aren't advent calendars for kids?" Not anymore. These themed advent calendars are designed with adults in mind. They offer a unique way to celebrate the holiday season, allowing you to indulge in your passion for pop culture while counting down to Christmas.
Frequently Asked Questions (FAQ)
What is an advent calendar?
An advent calendar is a special calendar used to count down the days until Christmas. Traditionally, advent calendars have 25 numbered doors or pockets, each containing a small gift, chocolate, or Christmas image. Starting on December 1st, you open one door each day leading up to December 25th. This creates excitement and anticipation as Christmas approaches.
Who are these advent calendars designed for?
We have selected themed advent calendars that are designed for collectors, enthusiasts, and fans of pop culture, anime, and manga.
Can I buy multiple advent calendars with different themes?
Absolutely! Feel free to mix and match different advent calendars to cater to your diverse interests or to give as unique and exciting gifts to your friends and family. Combining multiple advent calendars into one is a great way to fill those traditional wooden calendars.
Discover the Magic of 2023 Advent Calendars
As you unwrap each daily surprise, you're not just counting down to the holidays – you're counting up the cherished memories you'll create. The unique advent calendars of 2023 invite you to celebrate your passions, explore new worlds, and collect treasures that will bring joy for years to come. Start your journey today and embrace the magic of the holiday season like never before.
Ready to embark on your pop culture advent calendar journey? Dive into our online store today and discover the perfect calendar to ignite your holidays. These exclusive collectibles are in high demand, so secure your piece of the magic now!
Have an anime fan in your life? Don't forget to check out our ultimate anime holiday gift giving guide before you go.