Ahsoka Tano's T-6 Jedi Shuttle Playset (Ahsoka Series) – LEGO Star Wars 75362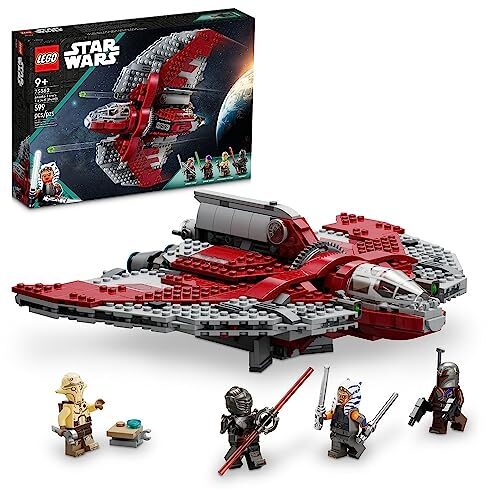 Recreate your favorite Ahsoka Tano adventures with this amazing LEGO® Star Wars™ set!
This detailed buildable model of Ahsoka Tano's T-6 Jedi Shuttle features an opening LEGO minifigure cockpit, landing gear that's easily retracted for flight mode, 2 stud shooters and 2 storage compartments for tools and weapons.
The set also includes 4 LEGO Star Wars minifigures: Ahsoka Tano, Sabine Wren, Professor Huyang and Marrok, plus lightsabers, blasters and more to inspire creative play.
Here are some of the key features of the product:
The set is based on the Ahsoka TV series on Disney+.
The set includes a new-for-September 2023 Ahsoka Tano minifigure, which features a unique headpiece and lightsabers.
The set also includes a Professor Huyang minifigure, who is a character from the Star Wars: The Clone Wars animated series.
The set comes with a sticker sheet that allows you to customize the shuttle.
The set is compatible with other LEGO Star Wars sets, so you can create your own unique adventures.
This set is perfect for fans aged 9 and up. With so many iconic characters and features, it is sure to be a hit with any fan of Star Wars: Ahsoka or LEGO Star Wars.
Order yours today and start your adventure!
Last updated on 10/05/2023 4:35 PM