LEGO Star Wars R2-D2 75308 Droid Building Set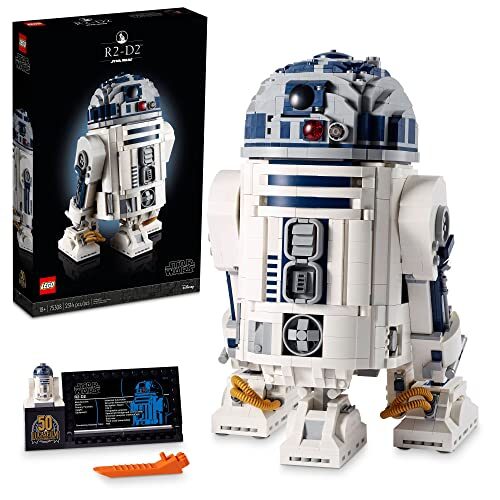 LEGO Star Wars R2-D2 75308 Droid Building Set for Adults
This collectible LEGO Star Wars set for adults is a challenging build that will delight any fan of the iconic droid. The set features an updated design with authentic details, including a retractable mid-leg, rotating head, opening and extendable front hatches, and an adjustable periscope. There is also Luke Skywalker's lightsaber hidden in a compartment in the head.
The model measures over 12.5 inches (31 cm) high and comes with a buildable display stand, featuring an information plaque, R2-D2 LEGO droid figure, and an exclusive Lucasfilm 50th anniversary LEGO brick. This makes it an impressive centerpiece for any home or workplace.
Part of a premium-quality collection of LEGO Star Wars building kits for adults, this set would make a wonderful gift for yourself, Star Wars fans, and advanced LEGO builders.
Features:
New-for-May-2021 design with authentic details
Retractable mid-leg, rotating head, opening and extendable front hatches
Periscope that can be pulled up and turned
Luke Skywalker's lightsaber hidden in a compartment in the head
Buildable display stand with information plaque, R2-D2 LEGO droid figure, and exclusive Lucasfilm 50th anniversary LEGO brick
Measures over 12.5 inches (31 cm) high, 7.5 inches (19 cm) wide and 6 inches (15 cm) deep
Contains 2314 pieces
Ideal for:
Adult LEGO builders
Star Wars fans
Fans of challenging builds
Fans of collectible LEGO sets
Last updated on 10/05/2023 4:31 PM